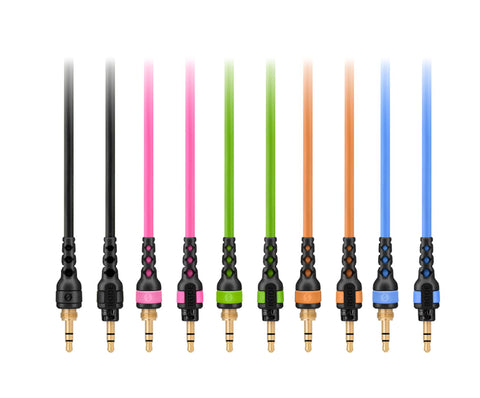 Rode NTH-100 12"/24" Extra Cable
Description:
The NTH-Cable is a high-quality flexible cable for use with the RØDE NTH-100 headphones. It features a locking connector to ensure it doesn't decouple from the earcup attachment and the cable terminates in a pair of reinforced 3.5mm TRS jack plugs with integrated strain relief moulding for reliable long-term use. The NTH-Cable is available in five different colours (black, pink, green, blue and orange) and two different lengths (1.2m or 2.4m). Each cable comes with a set of coloured ID rings, which match the cable colours and can be placed on both connectors for easy cable identification. Also included is a 3.5mm to ¼-inch adaptor for use with professional audio equipment and a rubber seal for the earcup headphone jack that is not in use. 
Key Features:
High-quality flexible cable for use with the RØDE NTH-100 headphones 

Locking earcup connector for complete security  

Includes COLORS ID rings, ¼-inch adaptor and rubber seal 

Available in black, pink, green, orange or blue

Available in 1.2m or 2.4m variants 
Box Contains:
1x NTH-Cable headphone cable

1x 3.5mm to 1/4" adaptor

1x COLORS ID set

1x rubber set
About Us
Onboard TV has been providing portable video solutions since 2003. We are the #1 authority in action cameras & accessories.
Read more
Shop online
Quick & Easy
We accept most major credit cards and Paypal as way of payment. Get the items you need fast!
Visit Us
at our store
Conveniently located near Hways 25/640 in Mascouche, QC, our store is open to the public by appointment. Call or email us to schedule a visit.
Free
shipping
On all orders above $100. We also offer expedited and overnight shipping at competitive rates.