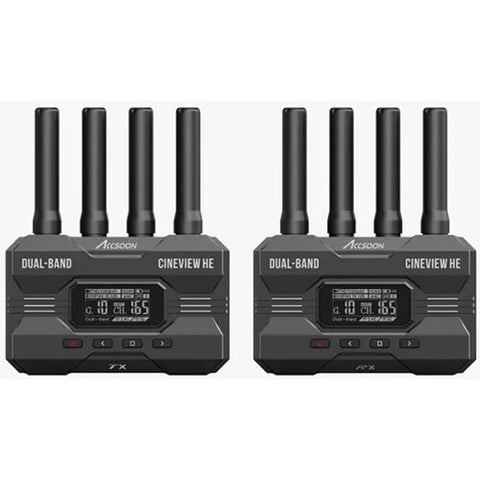 Accsoon CineView HE Wireless Video Kit
Description:
Wirelessly transmit crisp, clear video up to 1200' away with this CineView HE Wireless Video Transmitter & Receiver Kit from Accsoon. The kit includes a transmitter and receiver, which allow you to send up to 1080p60 video to the included receiver plus simultaneously up to three additional receivers or mobile devices such as smartphones and tablets.
This versatile wireless video transmission system provides a cost-effective way of allowing four people on set to monitor an HDMI camera signal. The transmitter can send signal to a total of four devices simultaneously over distances up to 1200' with virtually no latency. To send to a mobile device, the Accsoon Go companion app for iOS/Android is free to download and use to control and configure the transmission. The receiver also features a USB Type-C UVC output, so you can connect to a computer and utilize third-party streaming applications to create wireless live streams.
The transmitter and receiver provide multiple power options, including a DC barrel input, an L-series battery plate, and a USB Type-C input. Due to its low-power, fanless design, an NP-970 battery can provide up to 12 hours of runtime for each unit. Dual-channel transmission makes the CineEye 2S Pro highly resistant to outside interference and ensures that a strong, high-quality signal will be delivered over the 1200' line-of-sight distance.
Wireless Camera Transmitter and Receiver Kit
The kit transmits HD video and audio to up to four devices (the included receiver, mobile phone, tablet, laptop) through dual-band transmission technology. And its brand new USB Type-C port on the receiver will provide creators, live streamers, and podcasters with much more power to display their work or life through live streaming.
Dual-Band Transmission Technology
Dual-Band (2.4 GHz + 5 GHz) wireless transmission technology means you never have to worry about video or audio drop or switch signal issues again. Designed for demanding photographers and videographers to experience smooth and stable shooting, and it includes an incredible anti-interference technology to get unparalleled shooting results.
Long Range, Low Latency
CineView HE enables users to experience the stability of transmitting images and audio smoothly over long distance, even the size of a football pitch, with a latency of less than 6 ms.
Connect in Multiple Ways
CineView HE's transmitter features one HDMI in and one HDMI loop output, which can be connected to the camera and monitor, respectively. The HDMI loop output has been upgraded to zero-latency lossless output.
Simplify your Live Streaming
From the receiver to the computer, you can use a separately available USB Type-C cable to transfer the footage received by the receiver to any third-party streaming platform on your computer for live streaming, such as OBS and YouTube, with no additional video capture devices required.
Wireless Remote Monitoring App Accsoon Go
The Accsoon Go app offers a wide range of monitoring features that can enhance your shooting workflow. Enjoy high-end monitoring features, allowing you to take control of your production capture.
Power Control without Hassle
CineView HE can be powered by a DC port or L-series/NP-F battery for up to 12 hours with an NP-F970 battery. You can even power CineView HE with a USB Type-C interface for additional convenience.
Low Power Consumption and Noise-Free
CineView HE has a very low power consumption and no fan inside, ensuring zero fan noise and a complaint-free sound environment.
Automatic Channel Selection
At power on, CineView HE will automatically select the best channel for audio and video transmission. The dual-band transmission technology will further improve CineView HE's anti-interference capability to ensure that the high-quality audio and FHD video can be transmitted with nearly undetectable latency via its reliable dual-band transmission signals.
About Us
Onboard TV has been providing portable video solutions since 2003. We are the #1 authority in action cameras & accessories.
Read more
Shop online
Quick & Easy
We accept most major credit cards and Paypal as way of payment. Get the items you need fast!
Visit Us
at our store
Conveniently located near Hways 25/640 in Mascouche, QC, our store is open to the public by appointment. Call or email us to schedule a visit.
Free
shipping
On all orders above $100. We also offer expedited and overnight shipping at competitive rates.