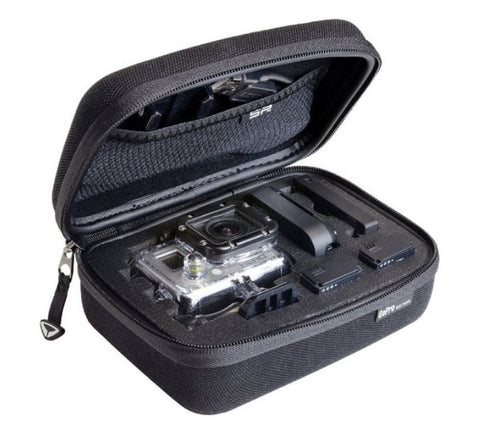 SP Gadgets Black POV Case XS
Description:
The extra small Black SP Gadgets POV Case for GoPro Cameras is a semi-rigid clamshell case that holds a GoPro HERO camera and accessories. It features a pre-cut foam interior designed to simplify organization and to keep your gear secure. The camera compartment will fit the GoPro HERO in its housing with the LCD BacPac attached, and provides slots that can accommodate mounts, additional batteries, memory cards, cables as well as many other action cam-related accessories you may want to bring along.
This case will fit all GoPro cameras.
Zippered, clamshell design
Custom-cut foam interior to fit GoPro and related accessories
Semi-rigid design for added protection
About Us
Onboard TV has been providing portable video solutions since 2003. We are the #1 authority in action cameras & accessories.
Read more
Shop online
Quick & Easy
We accept most major credit cards and Paypal as way of payment. Get the items you need fast!
Visit Us
at our store
Conveniently located near Hways 25/640 in Mascouche, QC, our store is open to the public by appointment. Call or email us to schedule a visit.
Free
shipping
On all orders above $100. We also offer expedited and overnight shipping at competitive rates.