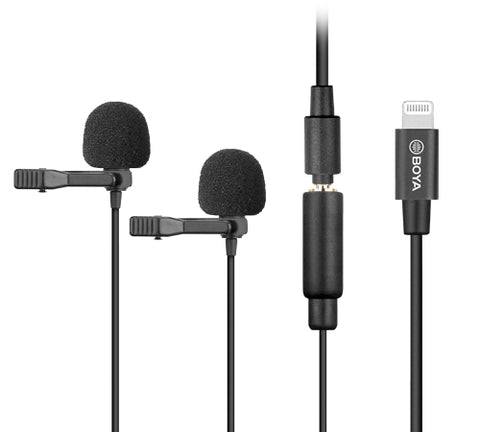 BOYA Digital Dual Lavalier Microphones for iOS devices
Description:
The BOYA BY-M2D is a digital dual-lavalier microphone, it helps capture a clear and high-quality sound with iOS mobile devices. 
With dual lavalier mics, it offers accurate speech capture of two subjects for podcasting, vocal recording, interviews, music recording, live streaming and more. Its omnidirectional polar pattern allows 360 degrees of sound pickup and minimal proximity effect. 
The BOYA BY-M2D allows connecting directly to iOS devices, such as iPhone, iPad, and iPod touch via Apple MFi-certified Lightning connector. 
The professional-quality microphone offers signal conversion at up to 24-bit/48 kHz resolution with a frequency response of 50 Hz to 20 kHz. 
The supplied windscreens reduce vocal plosives and wind noise while protecting the microphone's diaphragm.
About Us
Onboard TV has been providing portable video solutions since 2003. We are the #1 authority in action cameras & accessories.
Read more
Shop online
Quick & Easy
We accept most major credit cards and Paypal as way of payment. Get the items you need fast!
Visit Us
at our store
Conveniently located near Hways 25/640 in Mascouche, QC, our store is open to the public by appointment. Call or email us to schedule a visit.
Free
shipping
On all orders above $100. We also offer expedited and overnight shipping at competitive rates.