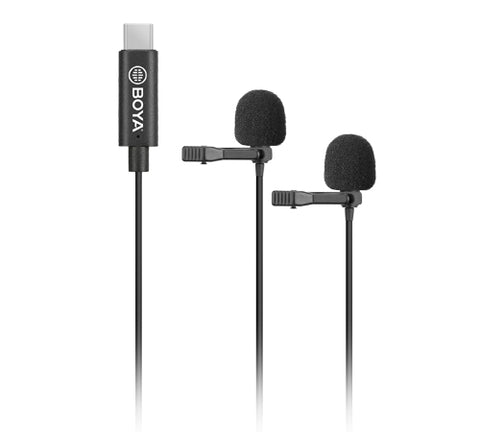 BOYA M3D Digital Dual Lavalier Microphones
Description:
Designed for recording interviews, the BOYA BY-M3D is a digital USB Type-C microphone and comprised of two omnidirectional condenser lavalier microphones, which is specially designed for Android devices and others devices with Type-C connector, such as iPad Pro, Mac PC. 
With 16 bits/48KHz resolution and each microphone recording to a discrete channel features, it's ideal for presentations, podcasts, webcasts, or any situation where one or two subjects needs to be recorded. 
The package includes tie clips allow for hands-free operation while the windscreens help ensure quiet, professional-quality recordings.
About Us
Onboard TV has been providing portable video solutions since 2003. We are the #1 authority in action cameras & accessories.
Read more
Shop online
Quick & Easy
We accept most major credit cards and Paypal as way of payment. Get the items you need fast!
Visit Us
at our store
Conveniently located near Hways 25/640 in Mascouche, QC, our store is open to the public by appointment. Call or email us to schedule a visit.
Free
shipping
On all orders above $100. We also offer expedited and overnight shipping at competitive rates.