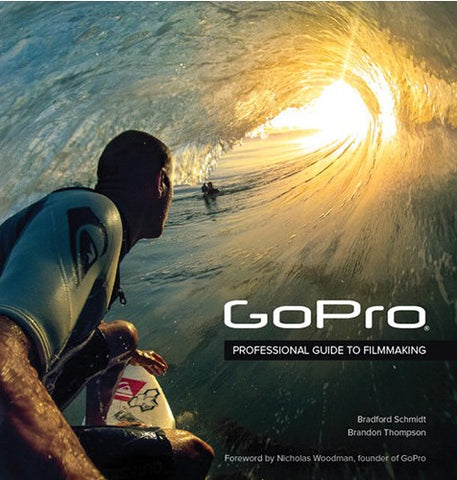 Professional Guide to Filmmaking Book
Description:
WHERE INSPIRATION MEETS TECHNICAL CRAFT, this guide to professional filmmaking with a GoPro is packed with hundreds of beautiful photos and interactive links to videos created by professional athletes, filmmakers, and inspired GoPro users around the world.
As the only book to cover the art and technique of advanced filmmaking by the team at GoPro, you'll get a unique insider's look at GoPro's history, all the different camera modes and settings, standard and experimental mounts, shooting principles, and editing techniques. Compelling stories from users such as Kelly Slater, Shaun White, and Kevin Richardson offer a rare view into an incredible world of athleticism, artistic beauty, and storytelling.

Whether you're a professional filmmaker, top athlete or an aspiring enthusiast, you'll get all the inspiration and instruction you need to capture and create your own engaging edits to share with the world. "This book is an invaluable window into Bradford and Brandon's creative thinking and summarizes their years of experience. Hopefully it serves as a spark for you just as the authors have done for GoPro." From the foreword by Nicholas Woodman, founder of GoPro 
About the Author
BRADFORD SCHMIDT AND BRANDON THOMPSON are founding members of GoPro's media department. Bradford first met  GoPro founder Nicholas Woodman in 2002, on a wooden chicken ferry while on a surf trip in Sumatra. The two bonded through their love of surfing, travel, and photography. Over the next seven years, Bradford helped Nick develop what would become GoPro, testing prototype mounts and cameras and filming footage for sales, marketing, and trade shows. In 2009, Bradford moved to Half Moon Bay, California, to create GoPro's media department and start its YouTube channel. Soon after, Brandon joined him as the second member of the media department. Since then, the two have worked together to tell countless GoPro stories; in the process, helping GoPro become the content-driven brand it is today.
About Us
Onboard TV has been providing portable video solutions since 2003. We are the #1 authority in action cameras & accessories.
Read more
Shop online
Quick & Easy
We accept most major credit cards and Paypal as way of payment. Get the items you need fast!
Visit Us
at our store
Conveniently located near Hways 25/640 in Mascouche, QC, our store is open to the public by appointment. Call or email us to schedule a visit.
Free
shipping
On all orders above $100. We also offer expedited and overnight shipping at competitive rates.