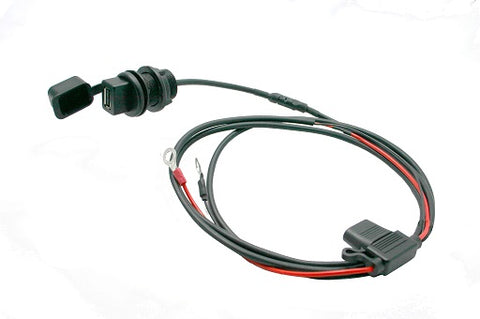 Panel TAPP 2.1A All-Weather Panel Mount USB 3.0 Port
Description:
Input Voltage: 12V ± 4.0V
USB (Output) Voltage: 5V ±.25V
Output Current: 2.1A Max.
Weatherproof up to full water wash down.
TAPP family of USB power ports are the ONLY powersports USB power port that are all-weather when a USB cable is plugged in*
Full length threads on housing allow use with panels up to 3/4" thick.
Panel nut can be tightened without tools.
Removable/replaceable seal cap.
TAPP CAPP™ included in kit
Powers: Tablets including iPAD, most cell phones & smart phones including Android cell phones and smart phones, Apple, Samsung, Motorola, & LG. Also most GPS, Apple iPod, and any other device that charges using 2.1A or less of USB power.
Note: some Android devices require a special charging cable such as Red Band™ smartphone quick charge cable for maximum charge rate.
*When cable is equipped with TAPP CAPP™ (included in kit)
About Us
Onboard TV has been providing portable video solutions since 2003. We are the #1 authority in action cameras & accessories.
Read more
Shop online
Quick & Easy
We accept most major credit cards and Paypal as way of payment. Get the items you need fast!
Visit Us
at our store
Conveniently located near Hways 25/640 in Mascouche, QC, our store is open to the public by appointment. Call or email us to schedule a visit.
Free
shipping
On all orders above $100. We also offer expedited and overnight shipping at competitive rates.