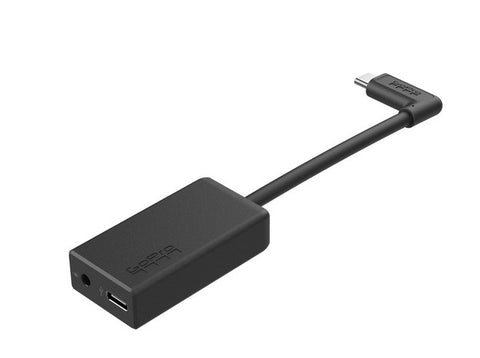 GoPro Pro 3.5mm Mic Adapter
Description:
Record high-quality clean audio from an external source with your HERO5 camera using the Pro 3.5mm Mic Adapter from GoPro. A 3.5mm analog stereo input can accept mic or line-level singals, and is compatible with powered and unpowered microphones. So whether you want to plug in a shotgun or lavalier mic for interviews, or take a signal directly from a music venue's mixing console, this adapter will come in handy. The internal A/D (analog to digital) conversion has 106dB of headroom, ensuring a clean audio recording. While the adapter takes up the camera's USB port, a pass-through USB port is available on the adapter, so you can still charge your HERO5 camera with the adapter plugged in.
About Us
Onboard TV has been providing portable video solutions since 2003. We are the #1 authority in action cameras & accessories.
Read more
Shop online
Quick & Easy
We accept most major credit cards and Paypal as way of payment. Get the items you need fast!
Visit Us
at our store
Conveniently located near Hways 25/640 in Mascouche, QC, our store is open to the public by appointment. Call or email us to schedule a visit.
Free
shipping
On all orders above $100. We also offer expedited and overnight shipping at competitive rates.