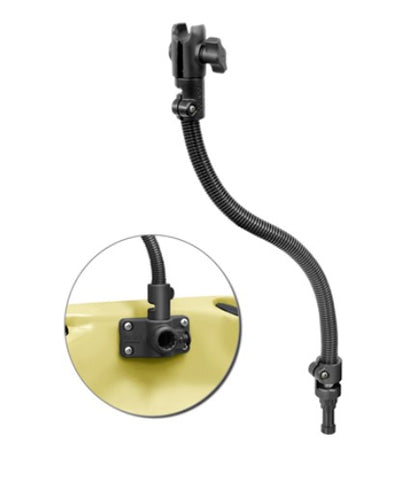 RAM Flex Arm Kayak Mount w/ QR Post Spline Adapter and Open Socket
Description:
The RAM Flex Arm Mount consists of a quick release female post spline adapter, 18" rigid aluminum rod and single socket arm for 1" ball bases/adapters. The spline adapter is compatible with all RAM post spline bases, as well as third party spline bases. The 18" rigid aluminum rod can be bent to position your device to its optimum viewing location. The single socket is compatible with all 1" ball bases and adapters.
Features:
Quick release and installation
High strength materials ensure product longevity
Suitable for marine environments
18" rod can be bent and repositioned
Compatible with all RAM post spline bases
Extremely versatile for adapting to almost any application
Swivel/swing technology allows for easy turning of mount and prevents obstruction
Lifetime warranty
About Us
Onboard TV has been providing portable video solutions since 2003. We are the #1 authority in action cameras & accessories.
Read more
Shop online
Quick & Easy
We accept most major credit cards and Paypal as way of payment. Get the items you need fast!
Visit Us
at our store
Conveniently located near Hways 25/640 in Mascouche, QC, our store is open to the public by appointment. Call or email us to schedule a visit.
Free
shipping
On all orders above $100. We also offer expedited and overnight shipping at competitive rates.