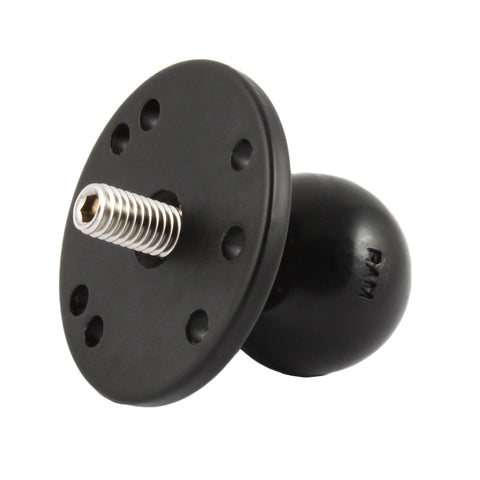 RAM Mount 1.5" Ball Adapter w/ Round Plate and 3/8"-16 Threaded Stud
Description:
The RAM-202CU camera base contains a 1.5" rubber ball that is connected to a 2.5" diameter round base. Also, included is a 3/8"-16 threaded steel stud, centered, the round base provides support and stability for cameras that rest on top of it. The male 3/8"-16 threaded steel stud will connect to any standard female thread found on cameras and tripods.
HOLE PATTERN
4-Hole AMPS: 1.181" x 1.496"
3-Hole 120-Degree: 1.812" Diameter
About Us
Onboard TV has been providing portable video solutions since 2003. We are the #1 authority in action cameras & accessories.
Read more
Shop online
Quick & Easy
We accept most major credit cards and Paypal as way of payment. Get the items you need fast!
Visit Us
at our store
Conveniently located near Hways 25/640 in Mascouche, QC, our store is open to the public by appointment. Call or email us to schedule a visit.
Free
shipping
On all orders above $100. We also offer expedited and overnight shipping at competitive rates.