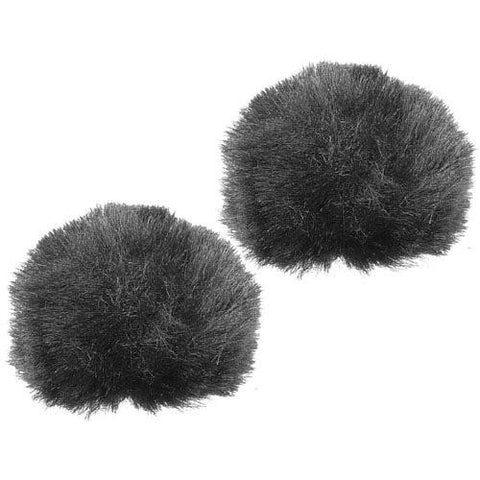 Rycote Lavalier Windjammer (Black, 2-Pack)
Description:
This rugged, black Lavalier Windjammer from Rycote is designed for use with lavalier microphones worn on the outside of clothing. It reduces wind noise (up to 12 dB) and clothes rustle, and is suitable for interviews or news broadcasts located outdoors in windy conditions.
Also called a "furry" this windjammer features an elasticized opening and a foam insert to secure the microphone within it. For maximum wind-noise reduction, the windscreen that was included with your lavalier microphone can be used as well. Pack of two.
Lavalier Windjammer - Compatible Mics
AKG: C577, CK77, CK97. Audio-Technica: AT 899. BeyerDynamic: MCE7. Countryman: B3, B6, EMW. DPA: 4061, 4062, 4071. Electrovoice: RE90L. PSC: FPSCNM. Sanken: COS11. Sennheiser: MKE 2, ME 102, ME 104. Shure: SM93, WL50, WL51, ECM77. Sony: ECM88. Tram: TR50. Voice Technologies: VT-100, VT-500

Dimensions
Width: 40 mm
Length: 40 mm
Height: 30 mm

Suitable for
Microphone Diameters: 4.5 mm
Microphone Length (up to): 15 mm
Maximum Wind-noise Attenuation: 12 dB
About Us
Onboard TV has been providing portable video solutions since 2003. We are the #1 authority in action cameras & accessories.
Read more
Shop online
Quick & Easy
We accept most major credit cards and Paypal as way of payment. Get the items you need fast!
Visit Us
at our store
Conveniently located near Hways 25/640 in Mascouche, QC, our store is open to the public by appointment. Call or email us to schedule a visit.
Free
shipping
On all orders above $100. We also offer expedited and overnight shipping at competitive rates.